A Brief Introduction about Consolidated Shipping Agencies Limited (CONSHIP)
01-12-2022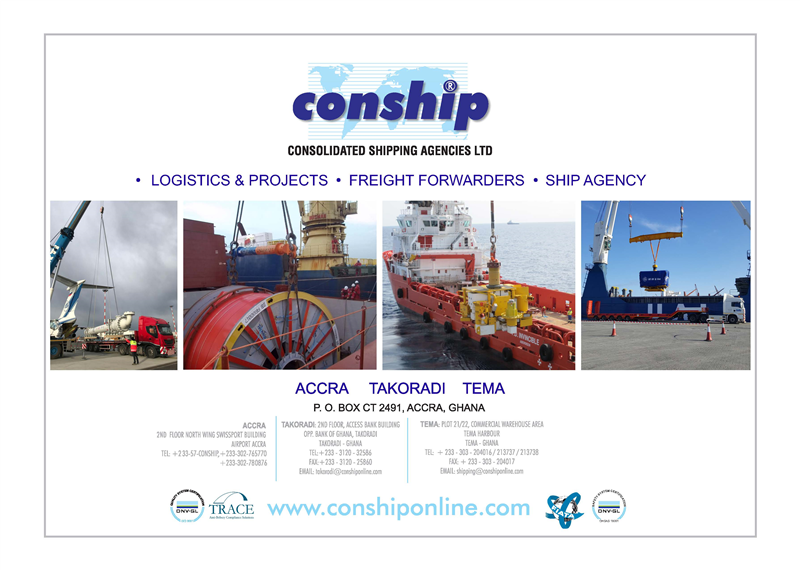 Consolidated Shipping Agencies Limited (CONSHIP), is a 100% indigenous Ghanaian Logistics company established in February 1996, with its core business as freight forwarding and customs brokerage
However, based on 26 years of experience CONSHIP has diversified and now provides a wide scope of services along the supply chain. These services Include Global freight forwarding, Customs clearance, transport of cargo (of any weight or dimension), vessel Agency/crew movement, Husbandry Services, warehousing, and container freight station services.
Conship has since become a one-stop shop in the logistics industry.
CONSHIP has branches in Accra (Swissport Cargo Village) Tema (Main Harbour), Takoradi, and Houston, Texas in the United States.
We are ISO certified and anti-bribery and Anti-corruption compliant (Trace International Member). We operate with a USD10 million goods-in-transit insurance cover on client cargo.
We have clients spanning from individuals to industries in the mining, oil and gas, retail, agriculture, pharmaceuticals, construction, airline, paints, automobile, and plastic manufacturing industries.
Based on Conship's track record it has had the opportunity to provide logistic support on major projects, especially in the oil & gas and Mining sector. We are open for business and are ready to embrace everyone with a warm CONSHIP family hug. Looking forward to doing business with you.
You can reach us at our branches in ACCRA, TEMA, Takoradi and Houston on:
Head Office & Accra Branch (Airfreight)
2nd floor North Wing, Swissport Building,
Airport , Accra Ghana
Tel: +233-302-765770 / +233-302-780876 ;
Email: conship@conshiponline.com / airfreight@conshiponline.com
Tema Branch (Ocean Freight)
Plot 21/22 Commercial Warehouse Area,
Tema Main Harbour, Ghana
Tel: +233-302-204016 / 213737 / 213738
Email: shipping@conshiponline.com
Takoradi (Ocean Freight)
Access Bank Building, Second floor;
Opposite Bank Of Ghana; Takoradi, Ghana
Tel: +233-312-032586
Email: projects@conshiponline.com
USA
11811 NORTH Freeway
Suite 500
Houston, Texas 77060, USA
Tel: +1-713-501-3361 / +1-630-299-6987
Email: houston@conshiponline.com